These are the most beautiful travel puzzles. Hopefully, they will hold you over until we can all travel again.
You may not know this about me, but I spend way too much time holed up at home working on jigsaw puzzles when I'm not traveling. During this time of social distancing, I thought it was the perfect time to stock up on puzzles, and from what I've seen on IG, a lot of people are thinking the same thing.
I've even talked about hosting a puzzle party, but that might have to wait for another time.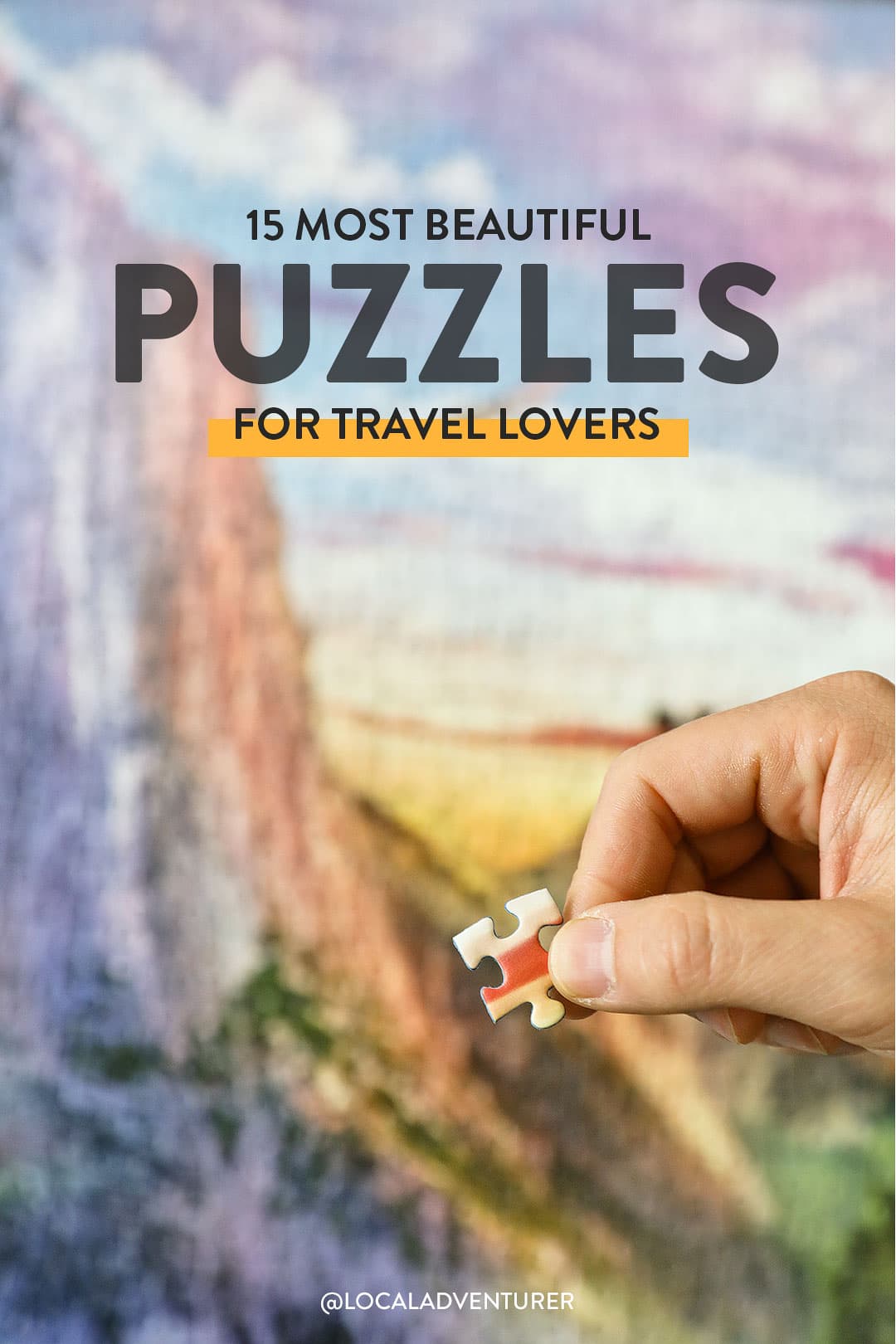 This post may contain affiliate links, where we receive a small commission on sales of the products that are linked at no additional cost to you. All opinions are always our own. Read our full disclosure for more info. Thank you for supporting the brands that make Local Adventurer possible.
Last Updated: April 30, 2020
15 Most Beautiful Travel Puzzles to Work On When You Can't Travel
As you'll see, all the puzzles are 1000 pieces to 32,000 pieces and most of them are Ravensburger, because they make the best puzzles out there. Every piece is unique and they fit together nicely. 
I've included a couple other highly rated brands with beautiful imagery, but as a friend of mine says, 'Ravensburger or nothing!' I'm not gonna lie. It will ruin other puzzles for you. None of the others will feel as satisfying, so if you don't want to drop all your cash on puzzles, don't do Ravensburger first.
1. Cinque Terre Viewpoint, 1500 Pc, Ravensburger
Cinque Terre is truly a magical place. We walked along the trails between each of these small towns and I ended up taking photos at this same viewpoint.
More: Our Cinque Terre Guide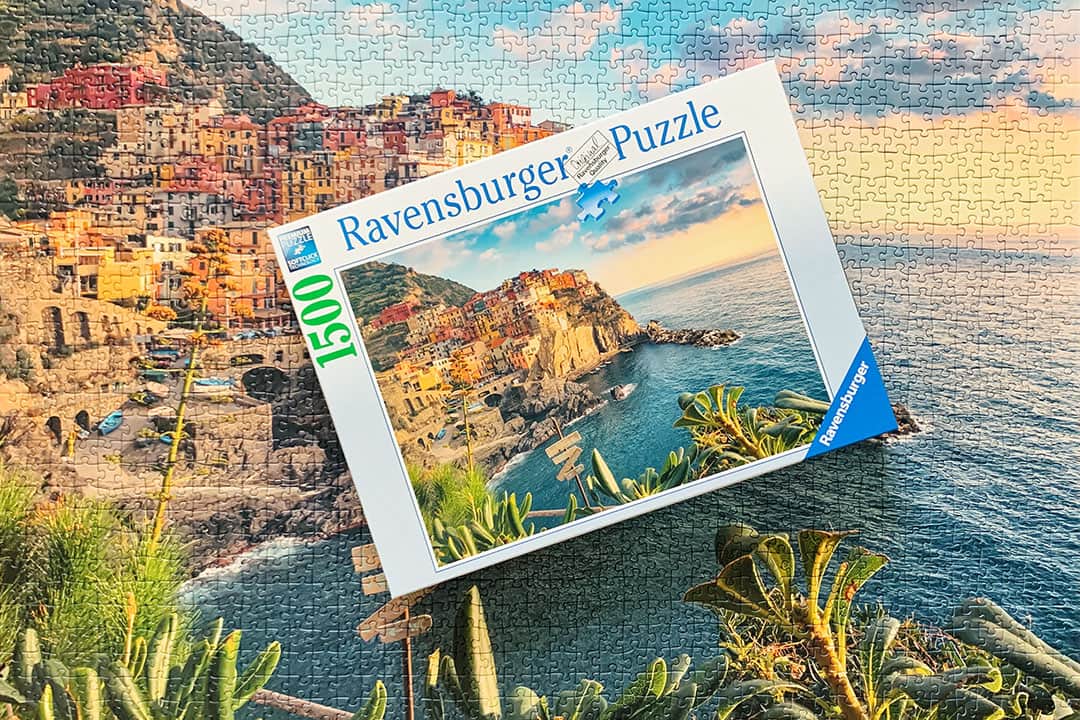 2. Big Sur Sunset, 1000 Piece, Ravensburger
Big Sur is, dare I say, the most beautiful spot in the US. I love the rugged coastline and blue waters. Plus if you look really closely in the puzzle, there's a small fence in the distance where we once sat to watch sunset. It brings back nice memories.
More: 11 Things You Can't Miss in Big Sur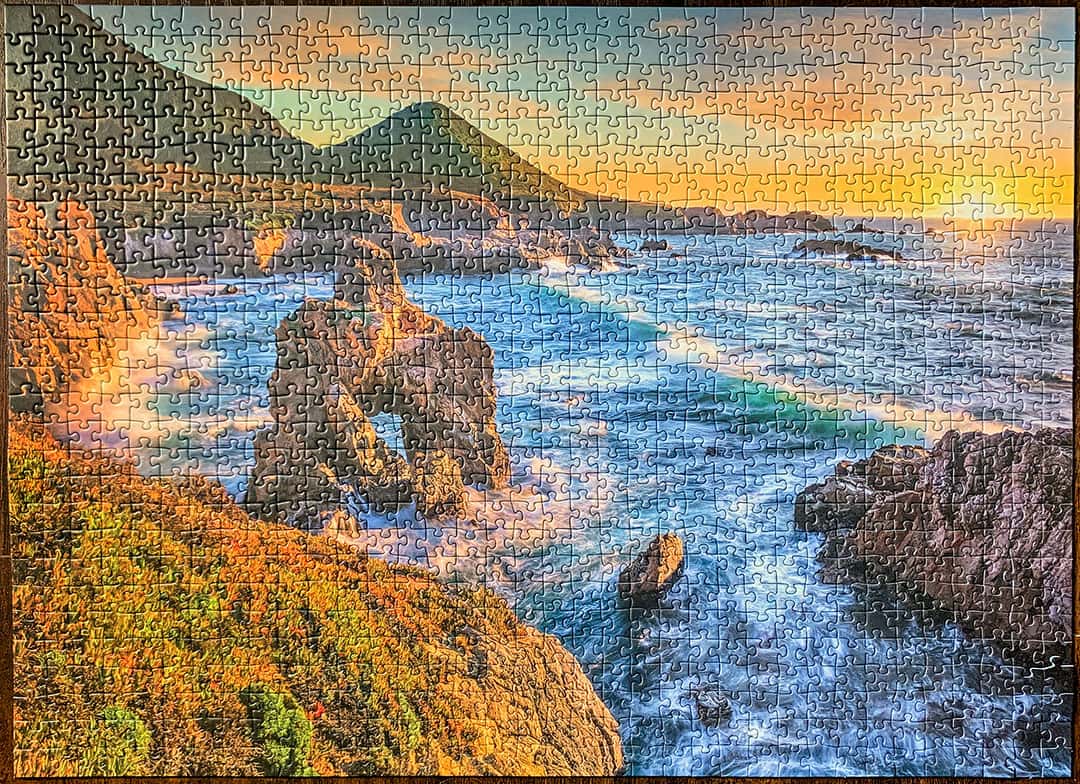 3. Northern Lights, 1000 Piece, Heye
When we visited Iceland during the winter, we chased the Northern Lights every night. We were lucky enough to catch a glimpse of it and were amazed to see the lights dance through the sky. This Northern Lights puzzle makes me want to go chase them again.
More: How to Catch and Photograph the Northern Lights
4. Golden Gate Sunrise, 1000 Pc, Ravensburger
San Francisco is one of my favorite cities to visit, and the Golden Gate bridge is an iconic part of it. Funny enough, in the dozens of times I visited, the bridge is always hiding under Karl the Fog. Here's to hoping the next time I visit, I'll have this view.
5. Yosemite Climber's Delight, 1000 Pc, Ravensburger
Yosemite National Park will always hold a special place in my heart. It's the first national park I visited as an adult, and every time I visit I'm in awe. absolute awe at the sheer size of the rocks around us.
This is one of my favorite travel puzzles I've worked on recently because of the color gradient.
More: 17 Breathtaking Things to do in Yosemite National Park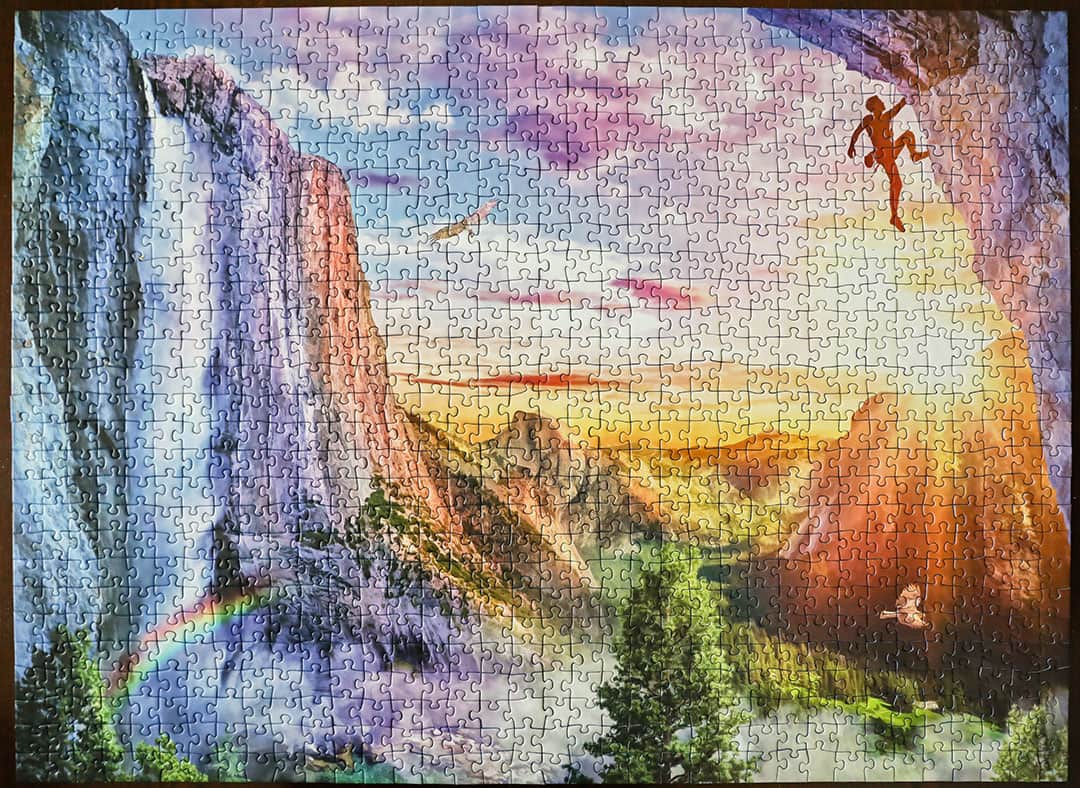 8. Paris Balcony, 1000 Piece, Ravensburger
No travel list is complete without including the city of love, which is why this makes our list of best travel puzzles.
Paris is one of those popular cities that we have been in no rush to visit, but if we do, we're going to find this balcony view of the Eiffel Tower.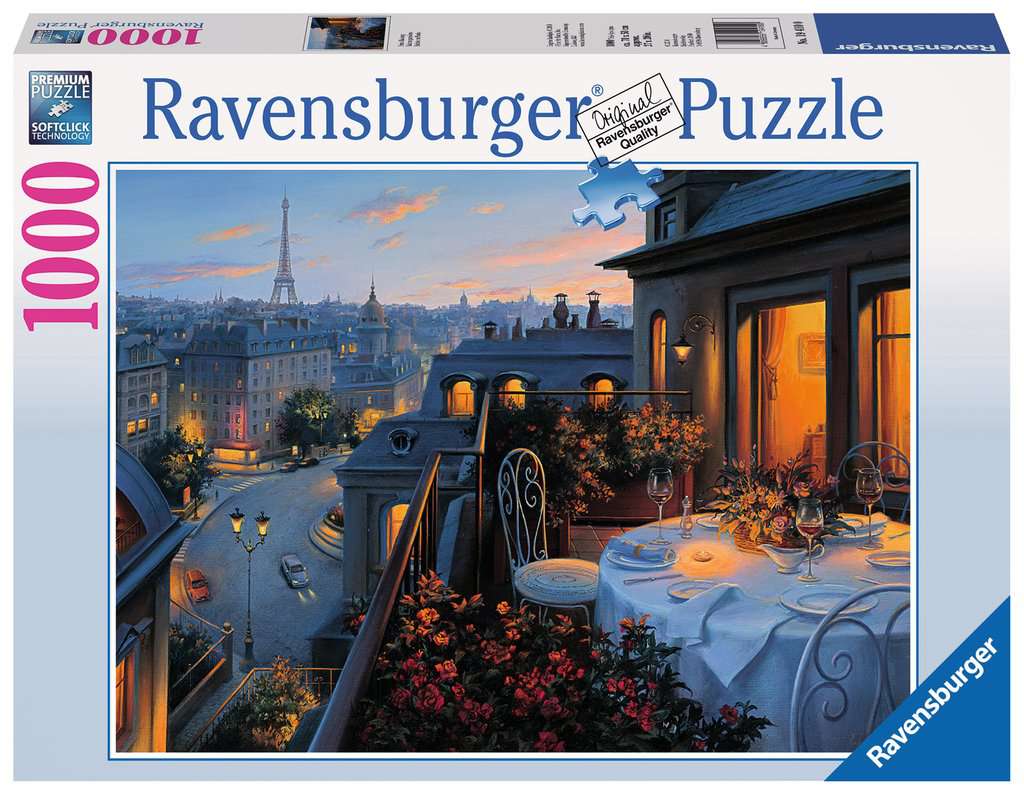 9. Gondolas in Venice (1000 Pc Ravensburger)
Have you been on a gondola ride? I visited in the winter and wasn't too keen on getting on the water, but I'll save it for next time I visit with my boo. In the meantime, I'll dream about it while finishing this beautiful gondola puzzle.
More: The Venetian Gondola Ride is Las Vegas
11. World Map, 2000 Pc, Ravensburger
Can't get enough maps in our house. Here's a 2000 piece puzzle if 1500 wasn't challenging enough.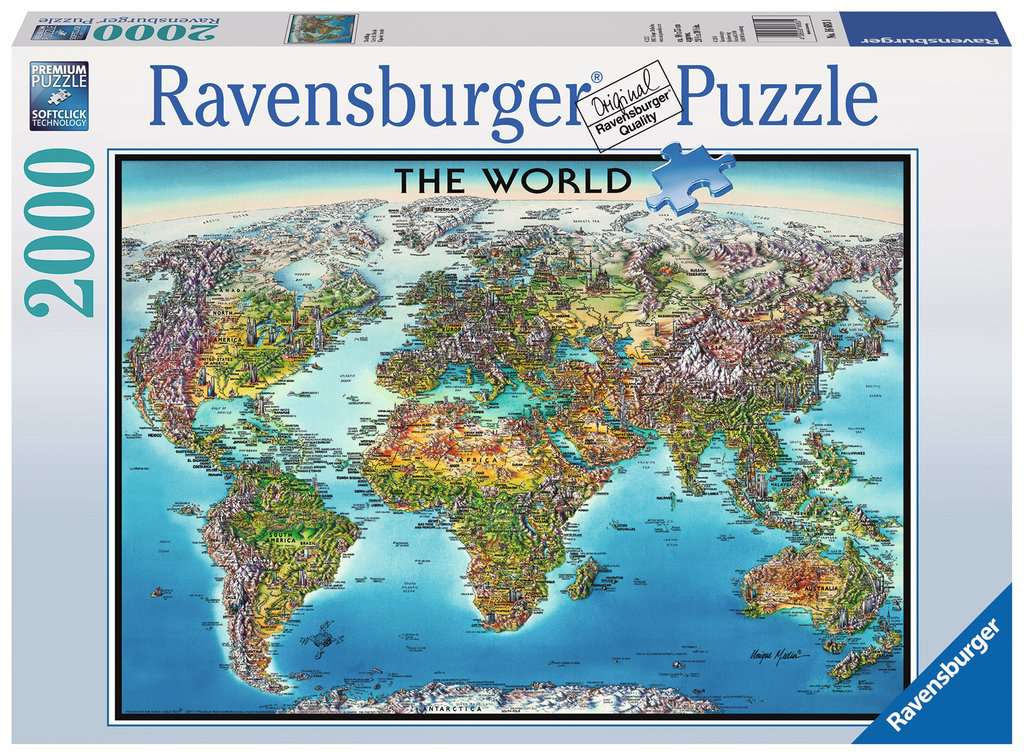 12. Hamnoy Lofoten, 3000 Pc, Ravensburger
Hamnoy is one of the most picturesque fishing villages in the Lofoten Islands, Norway. It's definitely on my travel wishlist, but this puzzle will have to hold me over. Plus, it's a 3000 piece puzzle which will keep you occupied for a while.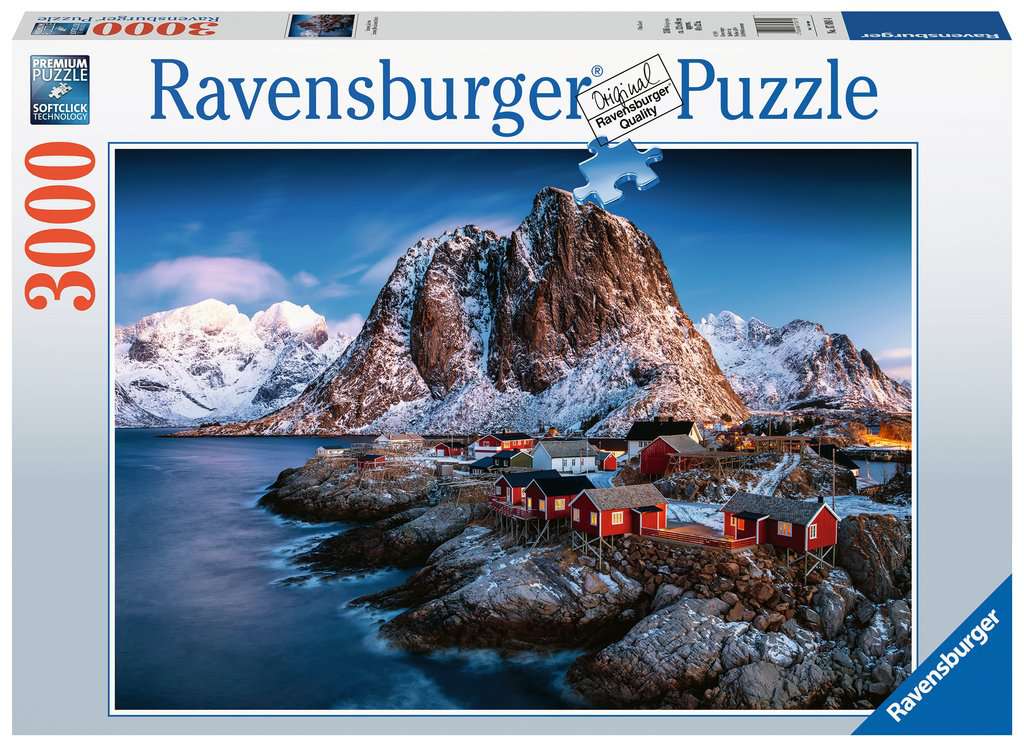 13. The Waterhole, 18000 Pc, Ravensburger
Challenge accepted! This massive 18,000 puzzle is currently spread across my living room. Help! I've never done one of this scale before. It comes divided into four bags for four quadrants, and sorting out the edges of the first quadrant took me a little over one hour. That was also me sorting fast, so I missed some edges in the process.
Have you been on a safari before? We've only done one in Pilanesburg National Park, but we eventually need to make it to Kruger.
More: Pilanesburg National Park Safari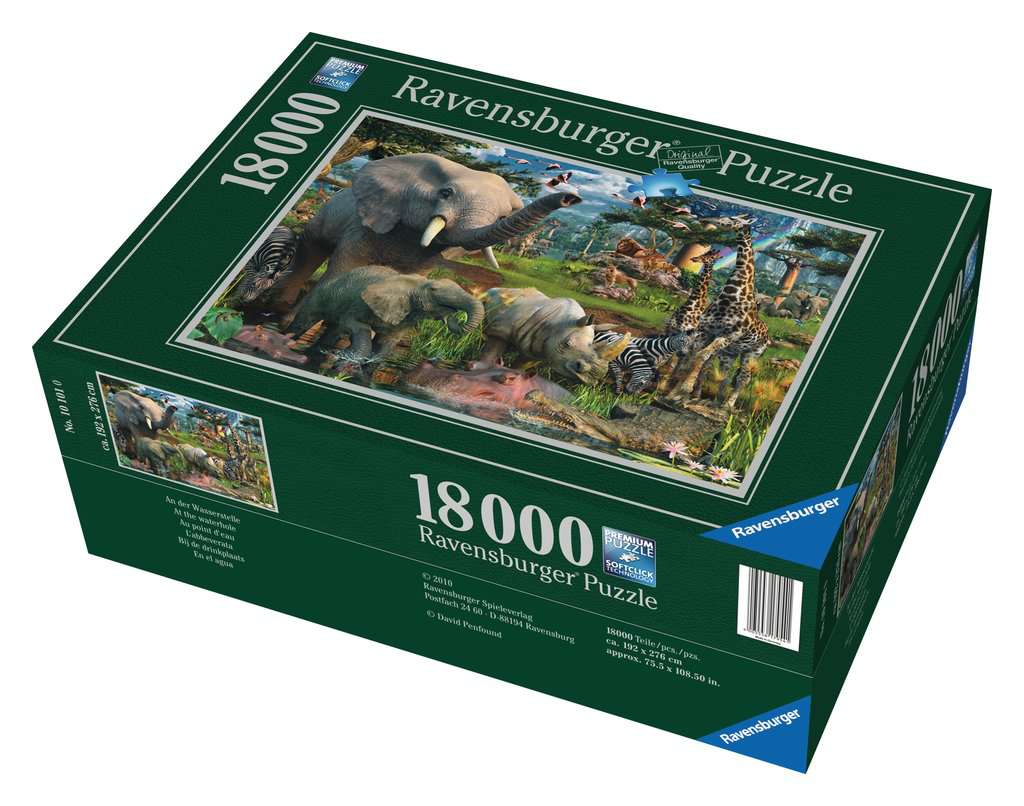 14. New York City, 32000 Piece, Ravensburger
Once I see how I fare with the 18000 piece one, I'm coming for this gigantic nyc puzzle next. I love that it's one continuous photo (some of the large scale puzzles look like they just connected a bunch of smaller puzzles). Plus, it's New York! Whether you love or hate the city, there's no place quite like it.
More: The Ultimate NYC Bucket List
15. Eiffel Tower, 216 Piece, Ravensburger
This is another 3D puzzle, and there are two editions: night and day. The one at night includes 3 LED lights, so that it can light up different colors. I'm waiting to finish the second quadrant of my 18000 piece puzzle before I can work on this one.
Local Tip / Pro Tip / Note: dsfsdfsd
More US Destination Travel Puzzles
Since we prioritize local content, we put US destinations first and then international.
Central Park Paradise, 1000 Piece, Springbok (also available in 500 Pc)
Manhattan Lights, 1000 Piece, Ravensburger
Greater New York, 1000 Piece, Ravensburger
New York Taxi, 1000 Piece, Ravensburger
View from the Brooklyn Bridge, 1000 Piece, Ravensburger
Times Square, 1000 Piece, Ravensburger
NYC Christmas, 1000 Piece, Ravensburger
New York City Skyline, 1500 Piece, Ravensburger
West Quoddy Head Lighthouse, 1000 Piece, Springbok
Painted Ladies, 1000 Piece, Ravensburger
Yosemite Valley, 1000 Piece, Ravensburger
Road Trip USA, 1000 Piece, Ravensburger
State Flower Stamps, 1000 Piece, White Mountain
More: Your Essential List of the Best Travel Books
More International Travel Puzzles
Venitian Dreams, 1000 Piece, Ravensburger
Sunset Over Rialto in Venice, 1000 Piece, Ravensburger
Sempione Venice Italy, 1000 Piece, Springbok
Waters of Venice, 1500 Piece, Ravensburger
Cinque Terre, 1000 Piece, Buffalo Games (also 2000 Piece)
Dinner in Positano, 1000 Piece, Ravensburger
Portuguese Windows, 1500 Piece, Ravensburger
A Paris Stroll, 1500 Piece, Ravensburger
Paris Sunset, 1000 Piece, Springbok

An Evening in Paris, 1000 Piece, Ravensburger

Vintage Paris, 1500 Piece, Ravensburger
Picturesque Notre Dame, 1500 Piece, Ravensburger
London at Night, 1000 Piece, Ravensburger
Neuschwanstein Daydream, 1000 Piece, Ravensburger
Fall at Neuschwanstein Castle, 1500 Piece, Ravensburger
Neuschwanstein Castle, 2000 Piece, Ravensburger
Bicycles in Amsterdam, 1000 Piece, Ravensburger
Canal Tour of Amsterdam, 1000 Piece, Ravensburger
Beautiful Places of Europe, 3000 Piece, Ravensburger
Rio de Janiero, 1000 Piece, Clementoni
Antique World Map, 1000 Piece, Ravensburger
Political World Map, 1000 Piece, Ravensburger

Antique Map, 3000 Piece, Ravensburger

World Wonders Panorama Map, 2000 Piece, Ravensburger
99 Beautiful Places on Earth, 1000 Piece, Ravensburger
Doors of the World, 1000 Piece, Ravensburger
Antique World Map, 1000 Piece, Educa
Neon World Map, 1000 Piece, Educa
Not Travel Related But Recently Enjoyed
Cats at Work, 1000 Piece, eeBoo
Fantastic Fashionista, 1000 Piece, Ravensburger
Doodle Rainbow, 1000 Piece, Heye
Art of Play Frosty Treats, 1000 Piece, Buffalo Games
Essential Tips – How to Complete a Puzzle Quickly
Sort out all the edge pieces and put the edge together first.
Sort all the colors and patterns and group them first before doing more of the puzzle. This is the most efficient way but also very boring, so instead, I do the following:
Pick a color or pattern that takes up the least of the puzzle and sort them out. It helps to do these first, so you have fewer pieces to look through for larger areas. Then repeat.
In the end, I like to sort the pieces by shape.
Lighting Matters: The best light is natural light, so it helps to work near a nice big window during daylight. Sometimes puzzles will have a glare, which makes it difficult to see the pieces. During the night, I like to use this ring light (we use this for our videos) and point it at the wall so that the light reflects back onto the puzzle.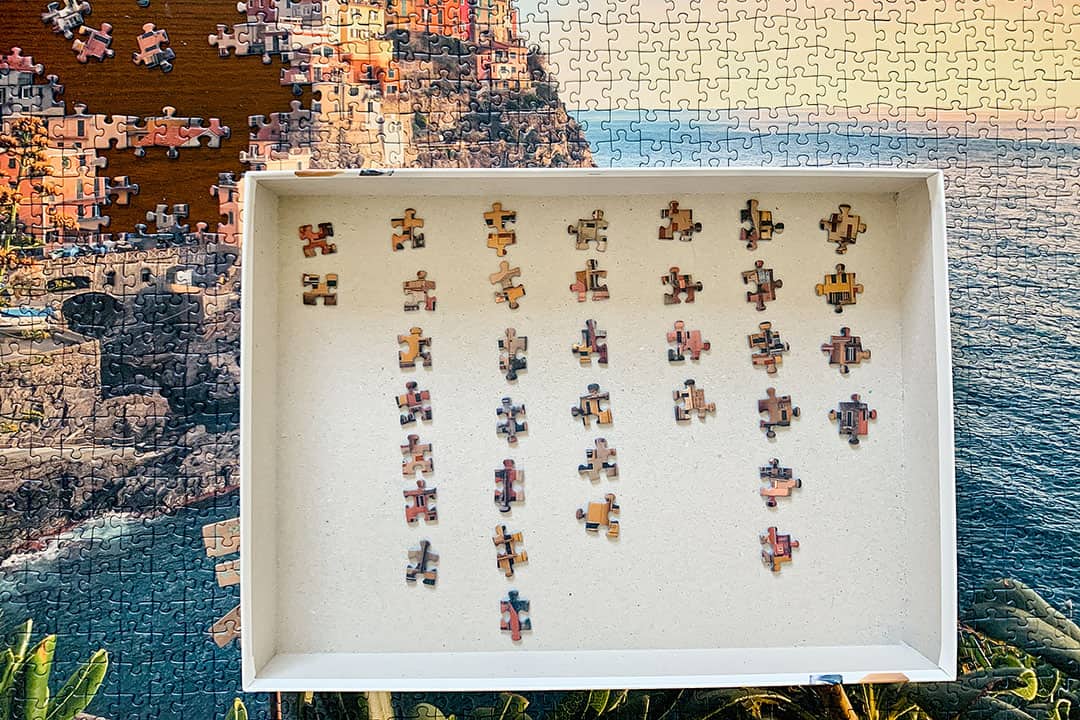 What are the best quality puzzles? What company makes the best puzzles?
I've tried a majority of the puzzle brands out there, and as I mentioned before, Ravensburger by far has the best quality with every piece being unique. Their "soft-click technology" makes it extra satisfying.
Here's what you're looking for:
Thickness – Do the pieces bend easily or is there any puzzle lift (where the image peels off)?
Piece Fit – do the pieces fit well together
Image and Artwork – the quality of image reproduction and if it has a variety of options.
This doesn't have to do with the actual puzzle but often the puzzle box and the extra things they include can also be taken into consideration. Nice, sturdy boxes help in terms of storage.
Here's a great puzzle brand comparison.
eeBoo is another brand that's highly rated among puzzle enthusiasts, but there were some frustrating moments you think the piece is in the right spot, but it's either a duplicate shaped piece or just not cut as well. Also, this is a personal preference, but I prefer matte over glossy.
Why are puzzles good for adults? What are the benefits?
Puzzles have a lot of benefits for adults. Here are just a few:
Better Memory – Solving puzzles helps our brain built new connections and reinforce existing ones, which improves mental health and speed. Jigsaw puzzles in particular are great for short-term memory.
Better Problem Solving – whether it's for your job or for your next escape room, creative problem solving is something we all do a lot. Puzzles can help us develop those skills.
Better Visual and Spacial Reasoning – since we have to figure out how smaller pieces fit into a larger picture, this helps us with our visual and spacial reasoning, like driving a car, using a map, or packing a box.
Better Attention to Detail – this is important in helping you finish a puzzle, so it helps you improve that ability in other parts of your life as well.
What is a good size puzzle for adults? What are adult puzzles?
If you're brand new to puzzles, start with a 300-500 piece puzzles since it's less time consuming and it gives you the small wins that can motivate you for more complex puzzles.
1000 piece puzzles are pretty standard for people who want a project or to do them over a few days as you'll see by the list we made here. Once you get really good at those, you can step up to 2-3 thousand pieces. I just ordered my first 18,000 piece puzzle and can't wait to try that.
How do you keep unfinished puzzles?
Unless you can dedicate an entire day, most puzzles will take multiple.
I like to do puzzles on the floor and have a large foldable Korean tea table that I use and store under my bed. I couldn't find any sold online, but you can pick them up at a large Korean grocery store like H-Mart.
There are also puzzle mats, sorting trays, and specifically built puzzle tables.
What do I do with a finished puzzle?
There are a few things you can do with a finished puzzle. I typically take photos and box them up again for future me.
Glue It and Hang It. You can use puzzle glue or this puzzle sticker to lock everything in place. Afterwards, you can frame it.
Pay it Forward or Lend it Out. Now that you've enjoyed it, pass it on to a friend who you know will appreciate it. We have a few friends that we swap puzzles with. If it's one you really like, you can lend it out.
Box Them Up:  All the 1000 Piece Ravensburger puzzles can be put back into the box in fourths. Eventually, if I want to do the puzzle again, I'll take the whole thing apart. 
Save it for Future You:  I have yet to repeat a puzzle, but I'm hoping once enough time passes, I'll forget many of the details and it will be just as interesting the next time around. If you want to challenge yourself more, you can time yourself and try to beat your own time.
What are puzzles made of?
Original puzzles used to be made out of wood, but most puzzles are made out of paperboard since it's the easiest and cheapest to mass-produce.
A photo is typically glued onto the cardboard before it is cut. Nicer puzzles use higher quality cardboard that feel nicer to the touch and is also less prone to the photo peeling off or not fitting well with each other.
Have you done any of these travel puzzles? Which travel puzzles should we check out next?
Did you enjoy this post? Pin it for later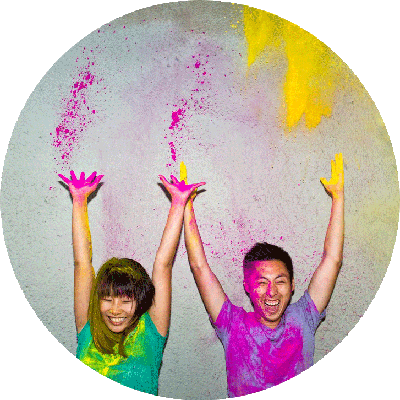 Esther and Jacob are the founders of Local Adventurer, which is one of the top 5 travel blogs in the US. They believe that adventure can be found both near and far and hope to inspire others to explore locally. They explore a new city in depth every year and currently base themselves in Las Vegas.






The post 15 Most Beautiful Travel Puzzles to Work On When You Can't Travel appeared first on Local Adventurer » Travel Adventures in Las Vegas + World Wide.